Overview

This motor driver module uses the popular L298N integrated circuit, which contains two H-bridges, capable of currents up to 2 A each. This module can be controlled by standard TTL logic and it works with a wide range of input voltages, making it ideal for robots and other high power projects. This module is capable to drive 2 DC motors independently or a single 4 phase stepper motor.
L298N is a high-voltage, high-current motor drive chip produced by ST. The chip uses a 15-pin package. The main features are: high working voltage, the highest working voltage can reach 46V; the output current is large, the instantaneous peak current can reach 3A, the continuous working current is 2A; the rated power is 25W. A high-voltage and high-current full-bridge driver with two H-bridges, which can be used to drive inductive loads such as DC motors, stepping motors, relay coils, etc.; standard logic level signal control; with two enable control terminals, Allow or prohibit the device to work without being affected by the input signal. There is a logic power input terminal to make the internal logic circuit work at low voltage; it can be connected with an external detection resistor to feed back the change to the control circuit. Using the L298N chip to drive the motor, the chip can drive a two-phase stepper motor or a four-phase stepper motor, or two DC motors.

Specifications
Dual H-Bridge Driver
Logic Supply Voltage: 5 V
Motor Supply Voltage: 5 V to 35 V
Logic Current: 0 mA to 36 mA
Output Current: Up to 2 A each
Storage Temperature: -20° C to 135° C
Maximum Power: 25 W
Size:43 x 43 x 27mm

Features
This module uses ST's L298N as the main driving chip, which has the characteristics of strong driving ability, low heat generation and strong anti-interference ability.
This module can use the built-in 78M05 to work through the drive power supply, but in order to avoid damage to the voltage regulator chip, when using a drive voltage greater than 12V, please use an external 5V logic power supply.
This module uses large-capacity filter capacitors and freewheeling protection diodes to improve reliability.

Use with Arduino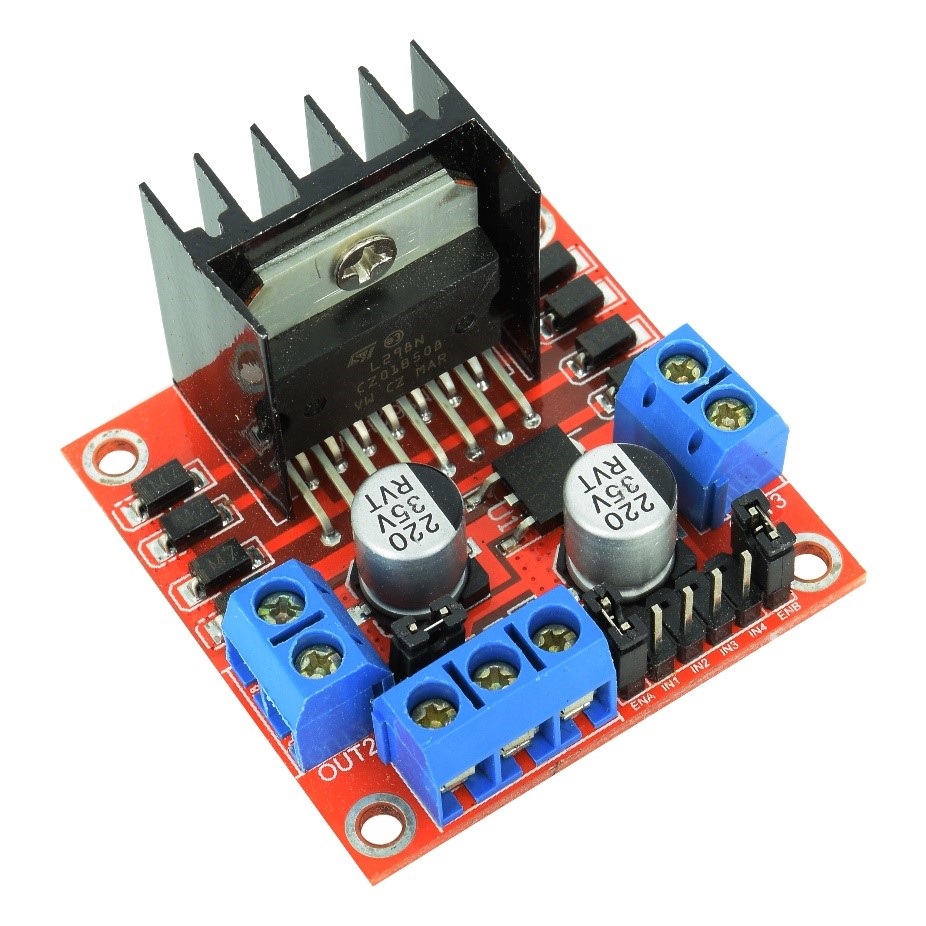 Connections
• Out 1: Motor terminal A
• Out 2: Motor terminal A
• Out 3: Motor terminal B
• Out 4: Motor terminal B
• 5 V: 5 V input (if the source used is 7-35 V can be used as 5 V)
• EnA: PWM for motor A -
EnB speed control : PWM for motor B - Pini speed control for speed and direction control:
• In1: motor direction A
• In2: motor A
• In3: motor B
• In4: engine direction B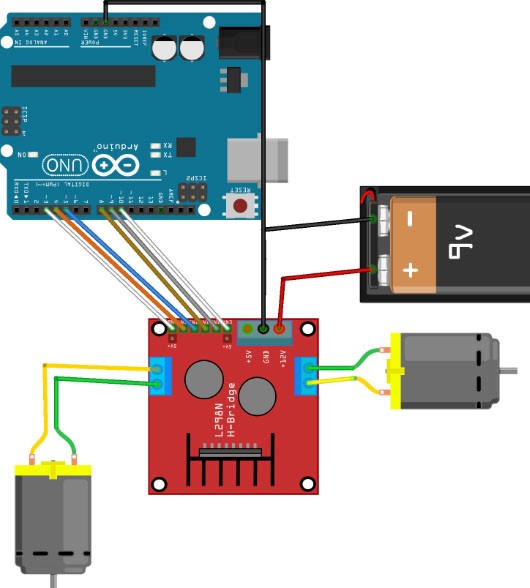 To control the DC motors with the L298N driver, we ensure that the EnA and EnB pins are not connected to 5 V. We will connect them to PWM pins 3 and 10 to control the engine speed.
To control the direction of the engines: on In1 we write HIGH, and on In2 we write LOW and the engine will go forward. To reverse the meaning we write LOW, respectively HIGH on In1, In2. Similar to the B engine.
Also, the GND of the driver must be connected with the GND of the Arduino board to work.

Don't delay, buy today.