More info


The Plusivo Soldering Kit is a set that contains a complete soldering kit that includes common tools used for soldering including a Multimeter. The kit contains a 60 W Soldering Iron with Adjustable Temperature equipped with safety design like the heat-insulated and anti-scalding silicone handle to protect users from burning. Together with the soldering iron, included are some tools and bonus items that are needed in both soldering or desoldering. The kit contents are inside a PU carry bag that allows you to easily store the tools. Plus a bonus Ebook for download just for you, to guide you in your soldering journey.

Complete Soldering Kit with Multimeter: It includes the complete soldering tools for various uses, from home DIY, electrical repair jobs and other soldering projects.
Premium Components: High-quality assorted components used for soldering.
Soldering Iron Kit with Bonus: Insulating Tape, Soldering Paste, Wire Cutter, Heat shrink Kit, Pen shaped Screwdriver and more.
Durable PU Carry Bag Included: It helps you to always keep the components organized; very convenient to store small tools, easy to carry and transport.
Satisfaction Guarantee: Our soldering kit is backed by our manufacturer 30-day money back guarantee and lifetime customer support.

Package Includes

• Adjustable Temperature Soldering Iron (60 W)
• Soldering Iron Stand
• Multimeter with Premium Probes
• Mini Wire Stripper Tool, Diagonal Wire Cutter and Cutter
• Tweezers (Curved ESD-15, Straight Tweezers ESD-11)
• Tin Wire Solder Tube
• Desoldering Pump
• Black 22 and Red 22 AWG Wire
• Soldering Iron Tip Set (5 pcs)
• Solder Wick and Soldering Paste
• Mini Screwdriver and Mini PCB
• Insulating Tape (black, red and yellow)
• Pen Shaped Screwdriver
• Bonus Heat Shrink Kit
• Ebook for download: Mastering the art of soldering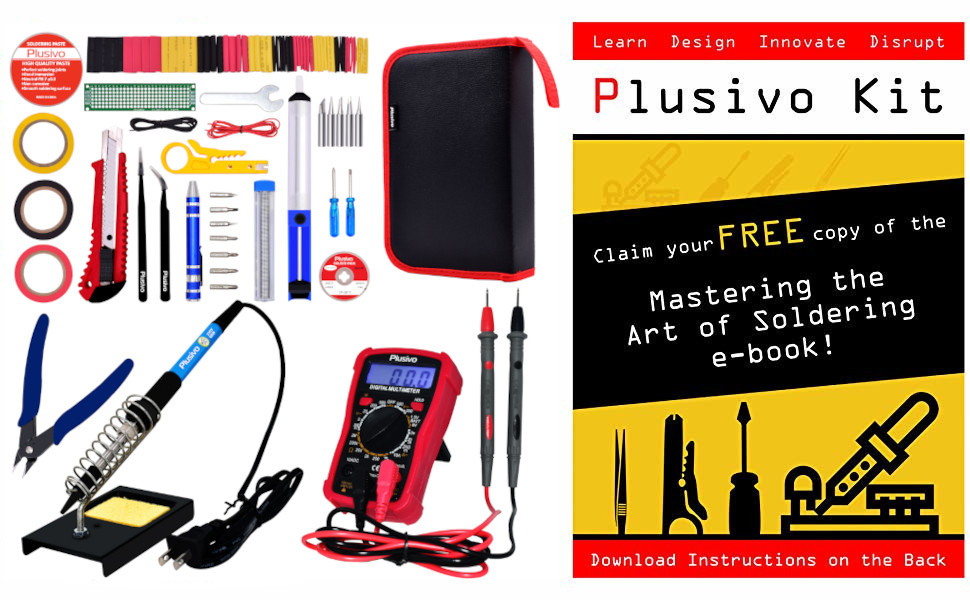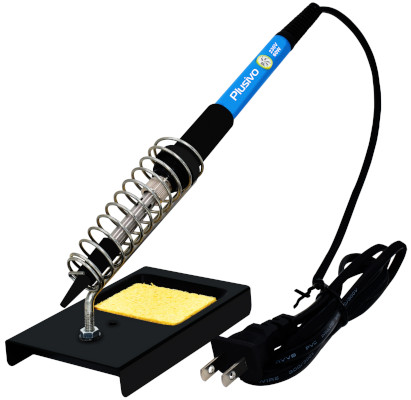 The Soldering Iron and Soldering Iron Stand
The soldering iron is the main item in the kit and features the following:
• Easy to Use
• High Quality
• Protective Tip Enclosure
• Four Ventilation Holes
• Heat Resistant Grip
• Adjustable Temperature
• Wattage: 60 W
• Working Voltage: 220-230 V, Plug Type A
• Item Dimension: 26.5 cm x 17.5 cm x 5 cm
• Max. Temperature: 450 C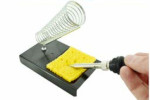 Soldering Iron Stand With Sponge
The soldering iron stand is where you will place your soldering iron when not in use. It features the following:
• metal base
• spring holder
• cleaning sponge
• can be assembled and disassembled

In addition to the soldering iron with stand, you can also find these accessories inside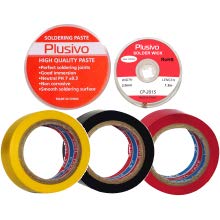 Insulating Tapes, Soldering Paste, and Soldering Wick

You can find in each kit three wonderfully colored insulating tape (black, red and yellow), high quality soldering paste and desoldering wick.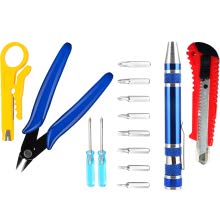 Pen-shaped screwdriver, diagonal cutter, wire stripper, and mini screwdrivers

You are also equipped with powerful tools that shouldn't be missing from anyone's workbench and some bonus handy tools like cutter, mini screwdrivers, and wire stripper.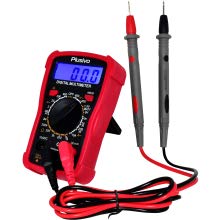 Plusivo Digital Multimeter


The multimeter features backlight, hold function, premium probes, voltage, current, and resistance measurement and also can be used for conductivity measurement.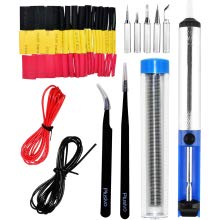 Solder, Tweezers, Soldering Tips, Desoldering Pump, Wires, Heat Shrink Tubes

You have everything needed for both soldering and desoldering. It includes accessories that may help you in soldering wires together.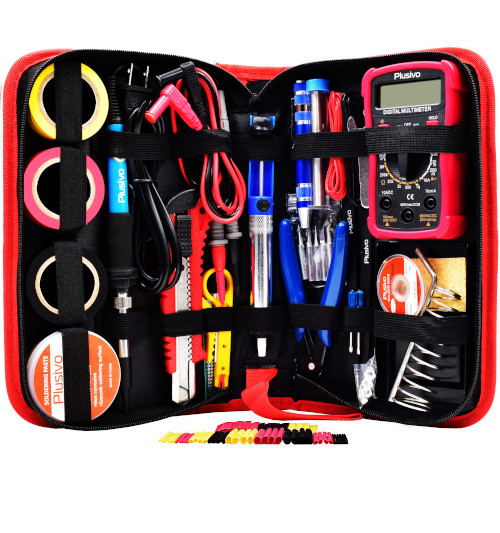 Complete Soldering Kit with Multimeter
When you open the kit, you will find soldering tools and accessories for various uses, from home DIY, electrical repair jobs and other soldering projects. Plus a Multimeter inside and many, many more!!
Durable PU Carry Bag Included
All items are inside the PU carry bag for easy storage of tools. So that it will be easy to carry and transport.
A variety of items inside
Most of the things you need in soldering are inside the kit, from the soldering iron to the wires, screwdriver and heat shrink, etc. More than what you are paying for.
Bonus Ebook for download
Use the code provided in every purchase of a kit to download the ebook which contains tips about safety, how to solder, some maintenance and cleaning tips, etc.

You'll never want to be without the Plusivo Soldering Kit with Multimeter!

Don't delay, buy today.